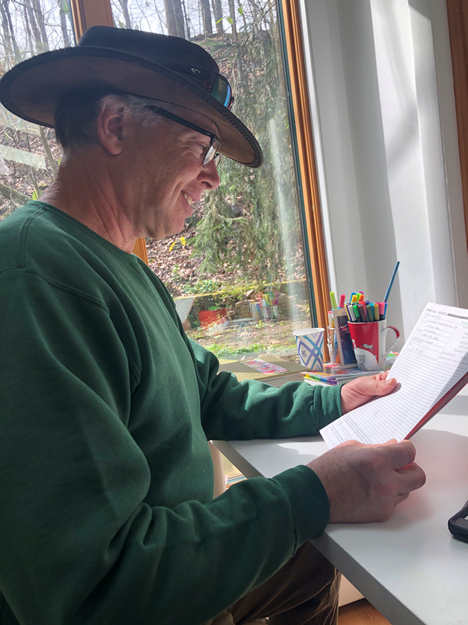 Why are trees so important?

An Arborist knows that green spaces are crucial to our health and quality of life. He or she will also tell you that healthy plants and trees are not just pretty decorations for our yard. While they are lovely to behold, they are also vital for the natural environmental goals of the planet itself:

Trees slow down wind – so plants and seedling trees grow better. Trees block the wind from our homes, and can thus help decrease your heating bills come wintertime.
Trees also give shade, and protect us and our land from ultraviolet radiation. Shade is both refreshing, and certainly helpful to cool our homes in the summer.
Trees do a great job absorbing pollutants, and provide us with valuable Oxygen that we need to breath.
Trees stabilize banks, and sustain the soil against erosion.
Trees muffle noise.
Trees sustain the hydrocycle, which is essential to proper seasonal changes, whether, and new growth.

Arborists are key players in the cultivation of trees for farming. Yes, trees are "farmed" and cultivated like any other natural resource that is useful to mankind:

Trees are grown in nurseries and farms for the purpose of planting or landscaping, in your backyard, for example, or installed around new construction, or on reforesting, environmental projects. Farmed trees are also grown to replace those cut down to be processed for their innumerable uses to us.
Trees are timber, and timber is used as building supplies to build almost everything from the smallest houses to the tallest skyscrapers, bridges, furniture, flooring, and fences. — and for so much more too, don't forget that trees make paper. So there is an never ending need demand for trees to mill.
Trees become fuel, as in firewood, and eventually coal.
Trees feed us, bearing fruits and nuts, and berries.

And like any other important and useful natural resource, Our trees have to be protected and kept from exploitation. Arborists are on the frontline of that, acting as guardians of our very valuable trees.

Trees provide ideal and essential habitats for all the woodland creatures with whom we share the land – giving an immense diversity of species shelter and food. Trees form green corridors connecting habitats with each other. Wooded areas keep the circle of life alive and well.

At the end of the day, wherever green things grow, an Arborist is your best ally in preserving it for generations to come.
What is an Arborist?

An Arborist is a person who studies Arboriculture. Arboriculture is the study of plants and trees. It's "Tree Biology": how trees and plants grow, how trees and plants can serve humanity, how humanity can preserve our green spaces, and how they have effected and been affected by Earth's history, and their future holds moving forward.
What is a Certified Arborist?

A Certified Arborist is that special person who's dedication to the Earth's green places: trees and forests, plants, flora and fauna — motivates him or her to seek formal study at the university level to gather as much knowledge, education, and training as possible to be able to be most effective as they pursue their life's goal to work among and for the good of especially trees and our wooded environments. Whether these wooded environments are natural or designed, the Certified Arborist has all the tools in his belt to help them thrive. A Certified Arborist prepares himself to someday be able to give the best effort he can to you and your neighbors so you can keep your properties as lovely and lush as you would hope for.

It is a comfort to know that a Certified Arborist has completed extensive, intensive, and comprehensive course work in subjects ranging from biology, botany, plant health care management, tree diagnosis and treatment, safe work practices, environmental science, agrimanagement, advanced pruning and planting techniques, and business management , etc. These student-Arborists must pass a series of tough exams to achieve certification. Most student-Arborists wisely choose to balance their academic training with solid practical, professional experience over a number of years. Combining real-world tree work with academics produces true mastery.

There are several professional organizations for Certified Arborists. The International Society of Arboriculture is an example of this. You can get in touch with your local / state chapter for a list of Certified Arborists in your hometown. This can be a good starting point when you've got tree work to be done. You may find that members of these kinds of professional organizations will generally uphold the highest standards, are quite reputable, and show the most proficiency while working on your behalf.

What's more, to remain certified, like many other professionals, the Certified Arborist is required to complete continuing education courses throughout his career. By taking these courses, the Certified Arborist can accumulate credits, and stay current with this ever-changing industry. As we all know, continuing education course work can be challenging to an otherwise busy professional's schedule. However, the savvy Certified Arborist can really come to appreciate the new information, techniques, and yes, exciting developments in world of arboriculture that they learn about in these courses. New standards are constantly being established and progressive scientific advancements happen all the time in the tree industry. Continuing education makes your Certified Arborist better prepared to tackle your tree dilemmas.
How can an Arborist be helpful to me?

Arborists are usually drawn to the study of plant life and trees because of their love for the great outdoors, and their curiosity about the infinite beauty and abundance of God's green Earth. The Arborist is passionate about the continued beautification of our landscapes, our fields, our gardens, our forests and even our jungles. The goal of an Arborist is to preserve and promote the proliferation of plants and trees on our planet, starting in all of our backyards!

An Arborist can help you make the most of your property's green spaces. Together with you, they are able to transform your home into a green wonderland by designing your gardens, selecting the appropriate, native plants and trees and even reforesting your backyard. All while teaching you some stuff about your trees that you never may have known before.

Beyond aesthetics, health care for trees and plants—diagnosing and correcting diseases that damage them—that's a top priority for any true blue Arborist. An Arborist knows that healthy trees and plants can really be a welcome addition to your property. But, you know, making sure that your trees are healthy, strong, and disease-free is very important to us homeowners too. Winter snow and ice, and summer thunderstorms—we've all been through them—they can really challenge your trees, and therefore can be dangerous for our most valuable asset—our homes. That Arborist can be the perfect partner you are looking for to help you, help your trees to stay gorgeous, safe and healthy.
Why is doing business with a Certified Arborist a good way to go?

Certification is super important to keep in mind when choosing among the estimates you receive for your property's work. When you call a tree service from the yellow pages, and the guy coming out to give you an estimate at your house is a Certified Arborist; and then that same Certified Arborist is the guy that does the actual work on your trees, then you can really feel like you have struck gold. You can have confidence that this person, the Certified Professional, can determine the condition of your tree, prescribe treatments if needed, and in many cases can apply those treatments.

A Certified Arborist is definitely the go-to person who can examine your treasured trees and give you primarily two key things: an honest and accurate evaluation. The Certified Arborist can offer you solutions and treatments to confront tree diseases. Their assessments are backed up by years of education and training, in many cases years of professional experience, not to mention adoration of and commitment to the outdoors.

In the tree business you will find a lot of guys who show up to your house with a banged-up pick-up truck, a couple of chainsaws and are ready to cut it all down, cheap and messy. Yikes. Buyer Beware! It should be a huge "red flag" to you, disturbing, when a "tree guy" doesn't give you a thorough and learned evaluation of your tree problems, and offers no diagnosis, and no alternatives. These jokers are too anxious to take trees down without any formal training, with sometimes frighteningly inadequate insurance, shaky reputations, and worst of all, without a single care for your property, especially your trees. Remember, just because a guy advertises in the yellow pages, and has some dubious equipment, does not necessarily mean he knows anything about trees. So choose carefully, and don't just go with the cheapest price, you may end up paying for it in the end.

Meanwhile, Certified Arborists can usually diagnose diseases and or infestation problems and will refer you to a Certified Applicator who can apply the proper control measures. The Certified Arborist can give you alternatives to tree removal if at all possible – like dead-wooding, or careful, healthy pruning to promote new growth. If a tree can't be saved, or if a tree is unavoidably a danger to your house, A Certified Arborist will let you know. You can trust a Certified Arborist because they are not in the business to take trees down capriciously. They are not in the business to make money off tree removals, they would rather save and maintain the trees you have. So when an Arborist says to take the tree down, you know he's speaking to you with sincerity.