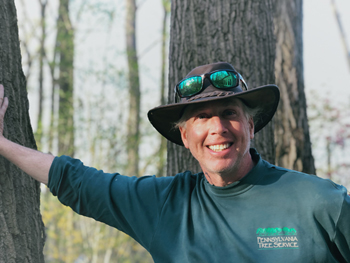 Greg is home in the outdoors. He adores the beauty of nature. He appreciates the changing of the seasons, the sounds, aromas, the colors and the simply the glory of the natural world. He considers himself blessed to have the opportunity to work in the great outdoors every day. He is keenly aware of his professional and personal responsibility to be a dedicated steward of the Earth, to do no harm, and moreover to do everything possible to preserve and promote the environment. Having spent so much time in the woods throughout his life, he is very saddened to see so much greenspace and woods being cut down for the purpose of over-development and industry. Invasive pests, rampant wildfires, and ever increasingly severe storms continue to threaten America's woods as well.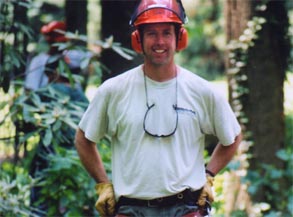 Healthy abundant forests are home to so much wildlife, native flora and fauna, and endless lush natural wonders. Healthy forests are also a source of clean water, and give balance to and supports a healthy environment. Perhaps nowhere else on Earth is more sacred than the forest –where we can go to restore our spirits, recreate, and build family memories. Forests can be sprawling, awe-inspiring, monument-filled National Forests who are rich with American History, — or small patches of woods owned by families who keep them preserved for years. All wild green spaces are key to a healthy environment and are one of the pillars of America's greatness. Our forests are a national treasure.
Greg is committed to keeping America's woods and forests full, healthy and green for future generations. Therefore, he gives generously of his time and resources to:
This is a wonderful organization whose mission it is to preserve and enhance America's family forests. They promote planting trees on privately owned land, and saving existing trees. The American Forest Foundation works very hard helping landowners to preserve and support the woods they have on their land. The American Forest Foundation does all it can to help build forest stewardship throughout the USA by teaching the value of forestry to owners of small wooded areas, and giving families the resources, support, and knowledge to help them promote healthy wooded places on their land, and maintain them from one generation to the next.
Established in 1875, American Forests is the oldest national conservation organization in The United States. It has been a tireless, fierce champion for promoting and preserving this nation's National Forests. After the Civil War, American Forests came to the aid of America's woods which were being cut down at a shocking rate to make way for new settlements. While not opposed to progress, they promoted responsible and a science-based strategy to maintain forests while allowing progress to continue. They advocated for the American Forestry Service, and were key in the establishment of National Forests in the Eastern USA. They also worked with Roosevelt in establishing the Civil Conservation Corps. American Forests remain a leader in promoting and creating Urban Forestry. They have funded over 1000 conservation projects throughout this great USA, and continue to be a champion for our beautiful and valuable natural forest lands. Our financial gifts help American Forests plant trees and protect existing National Forests.